Moving into a Barossa Village unit on Basedow Road in Tanunda, has brought Errol and Beverly James closer to family and it was also an opportunity to get away from the hustle and bustle of city life.
Errol and Beverly first met at Maitland on the Yorke Peninsula, both working as telephonists, with Errol working on the night exchange.
They married and moved to Adelaide where they lived for the next 40 years. Errol worked at the Advertiser as a proof reader and then as a sales rep for the newspaper before establishing his own business as a courier, providing delivery services throughout Adelaide.
Their family grew with the addition of two wonderful children, a boy and a girl. Beverly also worked cleaning contracts for the local school during these years.
Travelling around Australia was a highlight for the couple, with road trips to Darwin and Broome their favourite destinations.
Errol and Beverly were also caretakers on a 2000 acre property not far out of Cobar for a friend who holidayed for a month each Christmas period. This was outback country where it wasn't uncommon for the temperature to reach 48 degrees during that time of year. The property offered a great place to escape and presented Errol with the opportunity to do some hunting each morning of feral pigs that needed thinning out.
It was over two years ago that the couple made the move into their Basedow Rd unit, where they enjoy experiencing the changes of the season that the Barossa offers and the peaceful and tranquil lifestyle.
With six grandchildren, they recently celebrated the birth of their first great grandchild born in Victoria, who Beverly was lucky enough to visit prior to the COVID restrictions.
Going on outings, day trips and pub lunches are popular activities for Errol and Beverly and they each have their own interests, with Beverly a keen knitter and gardener. They both enjoy reading books, but for Errol this can be a predicament on account of his previous career as a proof reader. He can read a whole novel in a single day, often noting typos and punctuation errors as he progresses through the story!
They are both looking forward to the Barossa Village Walking Group resuming in the coming weeks.
This coming November, Errol and Beverly will celebrate their wedding anniversary. Barossa Village congratulates the couple on their 60 years of marriage and our very best wishes to these lovely folks.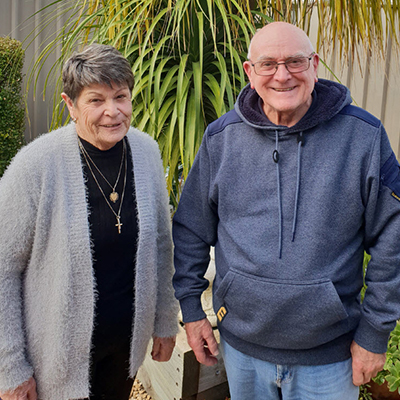 More Resident Profiles